Irish Camp 2023 Presents "Tír na nÓg"
June 30 @ 7:00 pm

-

9:00 pm
Irish Camp 2023 presents "Tír na nÓg"— developed and produced by the staff and youth at this summer's Irish Camp.
The UICC is committed to providing top-notch cultural programming opportunities, with special attention to youth as we build for the next generation of Irish Americans. We are delighted to have international creative force, Máire Clerkin, returning to the summer program and leading the charge as Camp Director. She is eager to work with a talented and diverse team of artists in a variety of activities and experiences. With such variety, every Camper will discover new passions and find their way to shine!
Máire has revealed an exciting theme for 2023—the famous Irish myth, Tír na nÓg – or Land of Eternal Youth. She explains, "We will interpret the folk tale by dramatizing, singing, playing, and dancing around the legend of Oisín and Niamh and how a curse by King Manannán mac Lir brings his daughter Niamh to Ireland where she meets Finn Mac Cool's son, Oisín."
"There is a lot of scope for intrigue with comedy, disguise, songs of adventure, a mystery voyage, wild sailors, a sad pig, banshees, hurling games, and a magic horse," says Máire. With three weeks of fun sessions in singing, drama, drumming, hip hop dance, fiddle, piano, storytelling, visual arts and crafts, outdoor sports, web design, video making, and theater performance, Campers will work to create a theatrical production by Camp's end for all to enjoy.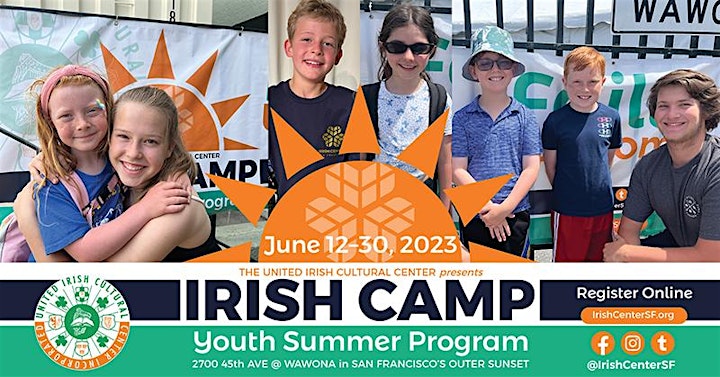 Related Events